Chaos Genius Is Now Public! Simpler & Faster Installs, Alerts Dashboard & Daily Alert Report - V.0.4.0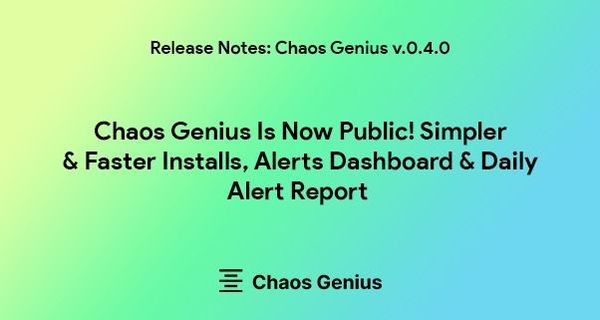 ✨ What's New?
Hi everyone, we hope 2022 is off to a great start. With Chaos Genius 0.4.0 - we have a BIG announcement to make. After spending weeks working with you all working on making the product - easy to use and stable, we're finally opening up our repos for public access !! Don't forget to star us 🌟
A BIG thank you to each one of you for your excitement about the product and diligent feedback. And we are grateful to @KShivendu, @danielefrigo, @coindcx-gh, @playsimple & @fampay-tech for the feedback for this release 🎶 🙌
Some of the key highlights for CG 0.4.0:
Simpler and faster install: 70% lesser storage, 50% faster installation
DeepDrills: New time cuts addition (WoW, MoM, QoQ)
Daily Alerts Report
Alerts Dashboard
Timezone support
We also fixed a bunch of bugs.
To upgrade your CG instance, follow the commands here.
🎉 New Features
Faster & Simpler Install
We are adding a default installation setup that is lighter, faster and works with fewer resources.
Decreased storage requirements by over 5.1 GB (70% of earlier storage)
Faster install time - which is on average halved from previous versions
(Optional) - all 3rd party SaaS connectors have been made optional and can be accessed now by docker-compose.thirdparty.yml
Deep Drills
We introduced new time cuts for DeepDrills like WoW, WTD, MoM, MTD, QoQ, QTD to reflect business needs - these can be also be configured from the env variables.
We also improved UI for Deepdrills to make the data more actionable and intuitive.
Thanks for the feedback (Dushyant, Anmol, Shree)
Daily Alerts Report
As many of our users are monitoring 1000s of KPIs (incl. sub-dimensions) - this can lead to multiple emails being triggered for each individual alert
For ease of use and to make these alerts more actionable, you can now select to get these alerts in a Daily Alerts Digest
The Alerts are now also presented in natural language (Thanks @KShivendu for all the amazing feedback on Alerts)
Alerts Dashboard
As many of our users are monitoring 1000s of KPIs (incl. sub-dimensions) - this can lead to a large number of alerts and can cause alert fatigue
To manage a large number of alerts better, we've enabled an Alerts Dashboard where you can access all your alerts for the last 7 days. You can filter by Alert Configurations, Recipient Email, KPI and Dates
For more details, you can jump into the Alerts Dashboard available at API/digest or via the Alerts screen by clicking the header "Alerts"
Timezone Support
Can set up a reporting time zone for metrics now on which the results are displayed.
Currently, our analytics & alerts scheduler runs on server time - which can often create confusion if the server timezone is different from the reporting timezone. To tackle this issue, we now also display the timezone for all scheduler settings.
We are in the process of adding new features to enhance timezone including native handling of timezone aware data.
🐛 Bug fixes
The Contributors
We have 15+ contributors spread across 10 different time zones across the world who have made commits to our GitHub repo to make Chaos Genius better than it was when they found it.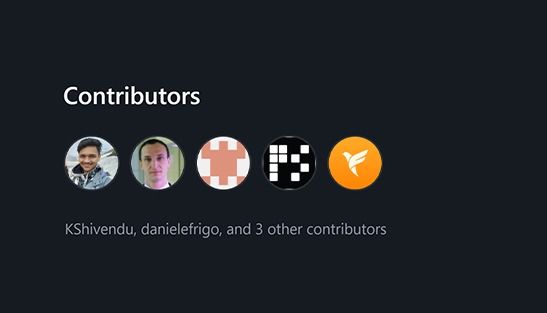 We are thankful to each one of you, and we're very excited about what the future holds for Chaos Genius in the open-source ecosystem.
Chaos Genius is an open-source business observability platform democratizing access to AI-powered Anomaly Detection for businesses around the world. Check out and access our Github Repository here. Give it a spin!